Bioflex Laser, also referred to as Low Level Laser Therapy ("LLLT") or Cold Therapy has been clinically proven to be an effective treatment for a broad range of conditions including musculoskeletal injuries, arthritis, soft tissue damage and sport injuries. Laser therapy is a treatment which utilizes red and infrared light to interact with all types of tissue cells---skin, bone, muscle, cartilage & ligaments and nerve cells. These photons of light target inflammed, injured and damaged tissues , in order to stimulate ATP production at the cellular level. This eliminates pain, restores range of motion and accelerates regeneration of damaged cells.
Conditions Treated Include:
Soft Tissue and Sports Injuries such as Ligament sprains, Muscle/Tendon tears, Joint dysfunction and Fractures
Repetitive Strain Injuries such as Carpal Tunnel Syndrome, Rotator Cuff Syndrome and Epicondylitis ("Tennis/Golfer's" Elbow)
Inflammatory Conditions such as Tendonitis, Plantar Fasciitis, and Rheumatoid Arthritis
Osteoarthritis (Hands, wrists, feet, knees, hips, back and neck)
Back Conditions such as Spinal stenosis, Sciatica, Disc Herniation
Neurological Conditions such as Neuropathies, Reflex Sympathetic Dystrophy, with ongoing Clinical Research to investigate the treatment of Concussions.
Have a look at this short and informative video to hear how people from all ages and stages of life have had significant improvements in their health with the use of BioFlex Laser.
https://www.youtube.com/watch?v=ww_M_LBph_Y&feature=youtu.be
The technology utilizes superluminous and laser diodes to irradiate injured, traumatized or diseased tissue with photons. These particles of energy are selectively absorbed by the cell membrane and intracellular molecules, resulting in the initiation of a cascade of complex physiological reactions, leading to the restoration of normal cell structure and function.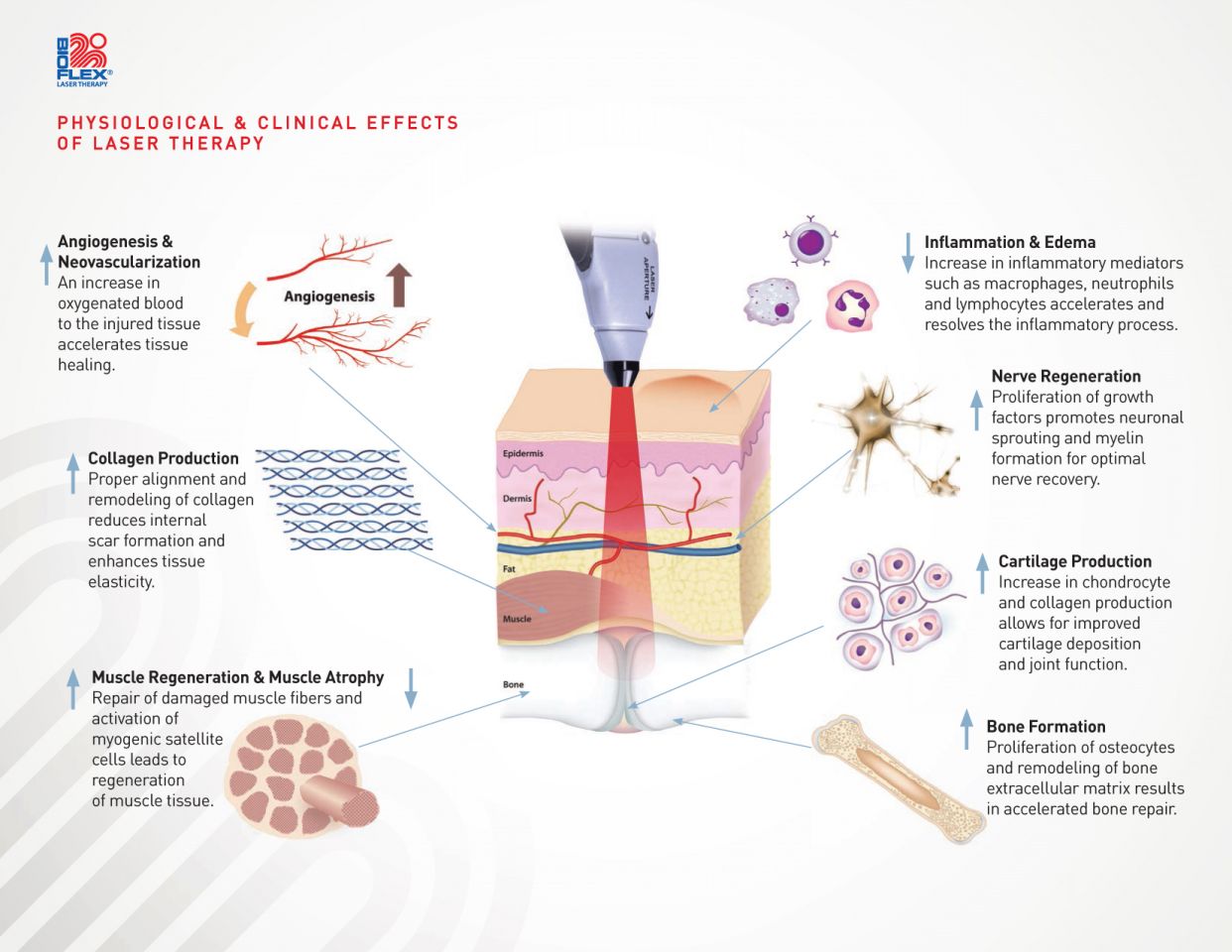 To learn more, please visit the Bioflex website at http://www.bioflexlaser.com